Post by thabeach88 on Sept 28, 2013 12:12:45 GMT -8
Character Name: Kaldur'ahm
Player Name: Bryson
Alias: Aqualad
Family/Allies/Friends: Aquaman, Garth, Tula
Archetype: Atlantean (Altered Human)
Age: 16
Height: 6'2
Weight: 180
Hair: Blonde
Eyes: Green
Nationality: Atlantean
Description: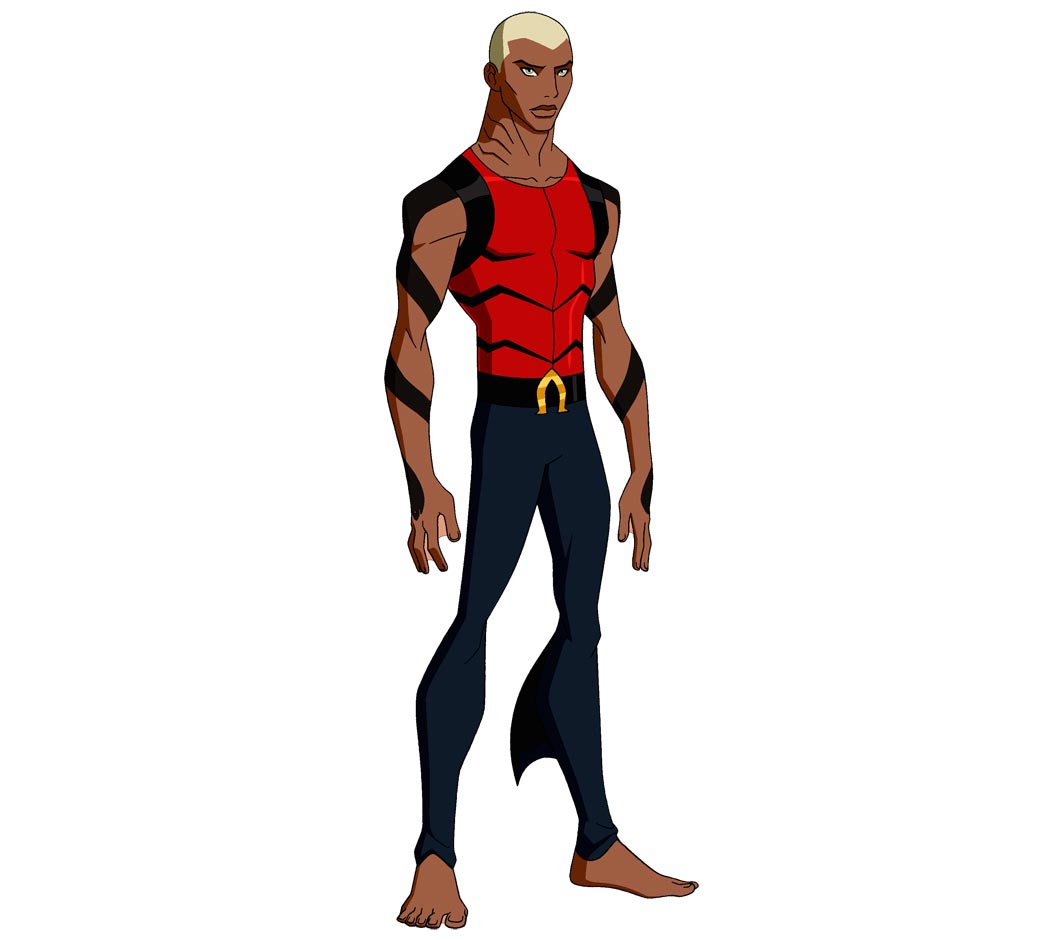 Occupation: Student at Conservatory of Sorcery, Protege to Aquaman
_____________________________________________________________
STATISTICS
F - Remarkable
A - Excellent
S - Excellent
E - Incredible
R - Good
I - Excellent
P - Remarkable
_____________________________________________________________
Health - 100
Mental Health - 60
Karma -
Popularity -
Contacts - Atlantean Royalty
Resources -
Appearance -
_____________________________________________________________
Talents: Martial Arts, Atlantean Magic, Leadership, Language (English, Atlantean, Ancient Greek, Modern Greek)
Talent Name - Statistic Used - Points.
_____________________________________________________________
Quirks & Flaws
Quirks =( Points)= :Ramifications
Flaws =( Points)= :Ramifications
_____________________________________________________________
Powers: Atlantean sorcery: Before becoming Aquaman's sidekick, Aqualad was trained in the mystical arts by Queen Mera. While he was in the top class along with Tula, his skills have fallen somewhat behind those of Tula and Garth due to focusing his studies as a hero, but his water-bearers compensate somewhat.
Electricity generation: He has the power to generate electricity from the eel tattoos on his arms, which he can channel through water or use as a direct offense against opponents. This can be used as a ranged attack in water or a melee attack otherwise, dealing Remarkable damage and Stunning the target on a Yellow hit, thus causing them to lose a turn.
Hydrokinesis: Aqualad is able to manipulate water to serve any number of uses, e.g. water blasts, whips, waves, shields, or water spouts to lift him into the air. He can manipulate water from a nearby source, like fire hydrants, lakes, etc. or his waterpack. His water blasts are capable of slicing through metal and other materials. It is assumed unless in drought conditions that he has enough water handy to preform a ranged attack that deals Remarkable damage to a single target, and Knockback on a Yellow hit. Areas of high water grant aqua points, one of which can be spent to boost either the damage of the strike by 1CS, or add two targets.
1) A broken fire hydrant or other water access grants access to 1 Aqua Point worth of extra power.
2) An excessively damp terrain, like a swamp, a rainstorm, or a minor flood grant access to 2 Aqua Points worth of extra power.
3) Being submerged at least up to the shoulders in water grants access to 3 Aqua Points worth of extra power.
*Hard-Water Constructs: Aqualad has the unique ability to solidify water into a myriad of different weapons for physical attacks. So far he has created swords, maces, sledgehammers, a small shield, and a large eel. This ability, like his hydrokinesis and electricity generation, is powered by his eel tattoos.
Regardless of form, a weapon takes a single action to form or alter, and has base stats of +1CS Fighting and +1CS damage. Either bonus can be reduced to increase the other by 1, and the Fighting boost can be reduced to a negative -1CS to increase its damage to +3CS. Aqua Points can likewise be spent on either Strength or Fighting bonus, increasing by +1CS per point spent on either, or adding any of the following abilities;
A) Grants the weapon's damage bonus to Strength for purposes of Grappling a foe or basic lifting.
B) Add 1 target to any basic attack. This can be stacked.
C) +1CS to Defensive checks.
D) Dual Wield. A Yellow hit deals two separatestrikes of -1CS damage each.
Aqua Points 'spent' on his weapon are not usable for other purposes until the weapon is disconfigured.
Atlantean attributes: Atlanteans, although Human, have through scientific and sorcerous means[28] developed several abilities which allow them to live comfortably under the sea:
*Breathe underwater: All Atlanteans are capable of surviving the aquatic atmosphere under the sea. Some accomplish this without the presence of visible gills.
*Temperature resilience: Resistant to low temperatures and the effects of freezing, although notably hindered by high temperatures. Aqualad is immune to Ice attacks of less than Remarkable severity and Ice extremes of up to -10 degrees Farenheit.
However, he acts at -1CS for every 10 degrees above 100 the area is, with an additional -1CS if the area is appreciably dry as well, and takes +1CS damage from attacks using fire or dryness.
*Durability: Dense flesh, although not invulnerable. This grants Excellent defense against Bludgeoning damage and Good defense against other physical damage.
Aqualad can channel water and energy into his defenses by 'spending' Aqua Points; Points used this way can't be used for other purposes until he drops his guard.
A) +1CS Bludgeoning defense per point spent.
B) +1CS Cutting/Piercing Defense per point spent.
C) Block one Fire attack per turn, per point spent.
D) Good defense against energy attacks, with a +1CS per point spent afterward.
*Strength: Ranging from undetected levels to Super strength. Depicted in stats.
*Toxin resistance: Aqualad has a partial immunity to poisons of sea creatures, such as jellyfish toxin. This is an Amazing resistance, so the toxin must hit repeatedly until its Class adds up to Amazing as well before it even starts working. Green and White 'hits' are completely ignored in this case.
If the exact nature of a synthesized poison is unknown, there is a 10% chance it is derived from a creature Aqualad has resistance to.
Power Name - Rank - Points.
_____________________________________________________________
Personality -
Aqualad is a very calm person, a trait unshared by the rest of his teammates. Soft-spoken and clear headed, he has a tendency to think things through and formulate plans before taking any sort of action. He tries to see the good in all people, and often acts as the voice of reason amongst his teammates, who were rarely—if ever—as cool-headed as he was. Aqualad always speaks in a formal manner, with an air of respect to all people, both young and old
History -
Aqualad came from the Atlantean city of Shayeris, where he was raised by Sha'lain'a, a native of that city, and Calvin Durham, a henchman of Black Manta who was genetically altered to infiltrate Atlantis. However, his actual father was Black Manta himself. He completed his education and began mandatory military service at age 12. At 14, he was transferred to the Conservatory of Sorcery in Poseidonis
Equipment -
Water Pack: A black metallic backpack that holds an unspecified amount of water that Aqualad can use. It also holds his Water-Bearers. This carries either enough water for infinite basic water blasts, or 2 emergency Aqua Points that unlike the others is gone forever once used up, until the pack is refilled. If both are used up, he can no longer preform water blasts without outside water sources.
Water-Bearers: Twin hilts that can hold onto water which Aqualad then uses to create his hard-water weapons. They are also used as a type of water gun to shoot water from his water pack and can be used to help manipulate sources of water. Gives a +1CS to Agility for the use of water blasts, and +1CS Psyche when attempting nonattack forms of water manipulation. Without them, Hard Water constructs take a full round action to create.
Stealth-tech: Technology that is integrated into a piece of clothing and can shift the color of that clothing from the original color to a darker color. Aqualad can access it by pressing the "A" belt buckle on his waist, his "blend" color is dark gray/blue and green.
_____________________________________________
Approved by: (GM puts in Nick and Date)