Post by ridureyu on Jul 19, 2015 0:47:28 GMT -8
Character Name: Decimus Hrabban



Player Name: Riddy



Alias: The Raven



Family/Allies/Friends: The Daemothyr Family, the Hrabban Family, The Order of Lunogoth



Archetype: Mystical



Age: Unknown



Height: 6'2"



Weight: 120 lbs



Hair: Black feathers



Eyes: Red



Nationality: Gothitropolis

Character Name: Decimus Hrabban



Player Name: Riddy



Alias: The Raven



Family/Allies/Friends: The Daemothyr Family, the Hrabban Family, The Order of Lunogoth



Archetype: Mystical



Age: Unknown



Height: 6'2"



Weight: 120 lbs



Hair: Black feathers



Eyes: Red



Nationality: Gothitropolis


Description: Decimus Hrabban looks like a six-foot-tall raven-man clad in ornate armor.
His face is not remotely anthropomorphic, though his voice is less hoarse than one would expect.
He lacks natural wings, however, and he does have hands.



Occupation: Relic Master, Protector, and Defender of the Gate


_____________________________________________________________
STATISTICS
Fighting: Incredible
Agility: Amazing
Strength: Good
Endurance: Good
Reasoning: Remarkable
Intuition: Remarkable
Psyche: Remarkable
_____________________________________________________________
Health - 110
Mental Health - 90
Karma -
Popularity -
Contacts - The Daethomyrs, the Order of Lunogoth, his brothers
Resources - Gold and equipment stipend from the Daethomyr Clan
Appearance -
_____________________________________________________________
Talents:
Arcane Knowledge - Knows a variety of spells with the abiliy to learn more. Can detect and identify supernatural forces. Can identify objects and artifacts.
Willpower
Combat - unarmed
Combat - weapons
Combat - aerial
Flight control
Parkour
_____________________________________________________________
Quirks & Flaws
Shinies - Obsessively picks up tiny little shiny trinkets. One day, he will fill a nest with them.
Appearance - Decimus Hrabban will never be able to hide the fact that he is a raven-man.
Code of Honor
Hollow Bones - if 50 damage or more is done to Decimus in a single round, he must roll endurance and succeed on green or hither, or break a bone. Broken arms and legs ruin his combat and mobility, respectively, while a broken rib gives him -1CS to all stats.
_____________________________________________________________
Powers:
Spectral Wings - Decimus Hrabban can summon a pair of spectral wings at will, which grant him flight at Excellent level.
Psychic Strength - Decimus defends against psychic attacks at +1CS, and a successful attempt damages his opponent for 10.
Magic Spells:
-Binding - He can bind spirit-based opponents with three successful psyche rolls in a row. If a red is rolled, that opponent is banished instead.
-Healing - Rolls Psyche, heals 40 HP on a successful roll.
-Engulfing Shadow - Wraps his target in darkness, causing blindness for three rounds. ROLL: Psyche
-Dark Grasp - A giant hand of pure shadow grabs the opponent. Upon successful hit, target is grabbed and held helplessly, taking 10 damage per round until they pass a yellow or red strength roll. DODGE: Strength
-Shadow Walk - Travels from shadow to shadow
-Divination - With an hour's time and his reagants, Decimus can consult the spirits to answer questions or divine the truth. Success on a yellow or red roll.
-Summon Spectral Raven - Decimus can summon the spirit of Nonus, his departed brother. Nonus cannot attack or be attacked, but can spy remotely for him, and deliver and retrieve messages. When Nonus is local, he boosts all allied healing by 10 HP.
-Weapon Summoning - Decimus can call his weapons and helmet to him at any time.
-The Gate Is Shut - Decimus knows the rituals and incantations necessarily to close the Gate to Beyond. However, it takes uninterrupted time to perform.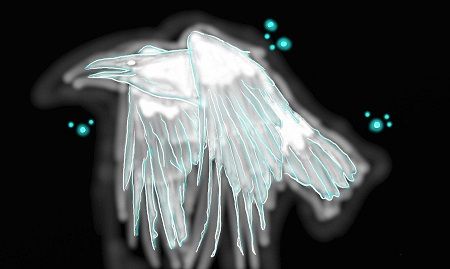 _____________________________________________________________
Personality -
History - The borders between worlds are thin indeed, and most men never know how close we are to annihilation. The Gothitropolis, a citadel on the edge of oblivion, is all that stands between this world and the unspeakable horrors that lie Beyond. Deep within the fortress, there is a Door. And beyond that Door is the far space, home to fiendish horrors beyond even what the mind can imagine At various times, evil demons and wicked wizards have tried to open the gate, only to be driven back by the Order of Lunogoth, an organization run by the mysterious Daethomyr family. Among the current defenders of the gate is Decimus Hrabban, a raven-man who fights evil with both sell and blade. Once long ago, he fought alongside his brother Nonus Hrabban, but the elder raven sacrificed himself in battle, leaving Decimus alone against the darkness. He is the front line, and the last defense.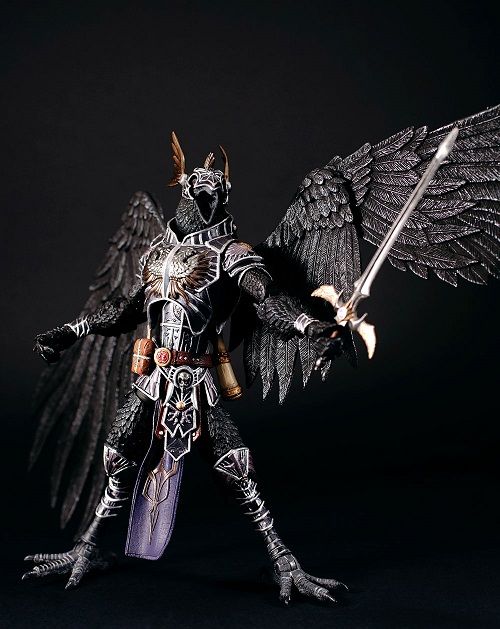 Equipment:
-Enchanted scythe/mace - 20 damage, when connected it offers a +1CS defensive boost, when separate they offer combos. The chain can entangle enemies with a successful grapple check. All of Decimus's weapons function as holy, or silver, or cold iron against supernatural foes.
-Blood-shadow blade - 30 damage, cannot combo, but pierces through armor and magical defenses. Can harm ghosts, spirits, and other intangible enemies. All of Decimus's weapons function as holy, or silver, or cold iron against supernatural foes.
-Battle Helmet - +1CS to psychic or soul based attacks (stacks with his poer), and +10 damage to the backlash.
-Armor - Halves damage from magical sources, otherwise Remarkable (20 resistance)
-Utility Belt - This is where he carries everything.
-Horn - When sounded, it sends out a signal to those who would be his allies, and can even provide the way to bring reinforcement in.
-Hand of Glory - Can see clearly even in total darkness.
-Bone Picks - Special enchanted picks which do 15 damage at range, and replenish themselves on his belt.
-Book of Atellus - The history of his people and conflict, as well as the secrets to ancient arcane power, are stored here.
-Spell Reagents - Decimus carries the ingredients for his spells and rituals on his person at all times. It can be assumed that he has enough for what he needs to do.
-Vial of Return - Use of the potion in this vial can return Decimus or anyone of his choosing to the Gothitropolis.
_____________________________________________