Post by sawbones on Oct 6, 2015 23:06:00 GMT -8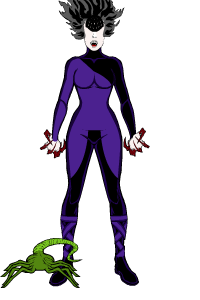 Character Name: Lavinia Whateley

Player Name: Caitthing

Alias: Parasyte

Concept: Possessed by an Elder-Thing

Tier: Normal

Age: 26

Height: 5'10

Build: Athletic

Skin: Dusky

Hair: Black wisps of shadow

Eyes: Nope

Race/Species: Altered Human

Description: Lavinia is a statuesque woman with a clearly athletic build; her skin is a dusky light grey and her skin glides like silk atop well-honed muscle. She's blessed with full lips, a strong roman nose, and... a bizarre, dark purple chitinous growth over the entire top of her head. her "hair" is actually a smoking, wispy black cloud that curls and coils like an aura of smoke around her head. Her fingers are long and clever, her hands calloused from years of living in the wild and her walk strong and confident. Also she has a forked tongue. Occasionally her body will manifest strange things - a mouth on her shoulder, an eye in her forehead or her hands.

Occupation: Heavy metal singer OOH YEAH




---
ARCHETYPE
---
-Altered Humans: Altered Humans are everyday people like you and me (well, me, anyway) who have been accidentally or purposefully exposed to weird radiation, secret formulas, or chose to be instructed in strange and powerful talents.
o Examples: Captain America, Hulk, & Nick Fury.
o Attributes: Pick Altered Human Attributes from between Typical (Ty) and Amazing (Am).
o Bonuses: Altered humans may raise any single primary ability rank by one rank. No starting rank can be over Monstrous (Mn) without permission.
---
ATTRIBUTES
---
------------Human / Monstrous Form
Fighting--> Good / Incredible
Agility---> Typical / Remarkable
Strength--> Typical / Excellent
Endurance-> Typical / Remarkable
Reason----> Remarkable / Remarkable
Intuition--> Remarkable / Remarkable
Psyche----> Amazing / Amazing
---
CONTACTS
---
Local News Media, Private Investigators
---
TALENTS
---
Professional Skill:

-
Security:
This Talent has two benefits: First, the hero gets a +1 CS to Reason to create or remove security devices. Second, the hero gets a +1 CS to Intuition for noticing installed security devices.
Mystic and Mental Skills:

-
Blasphemous Revelations:
The character has studied accounts of Elder Things and interdimensional horrors beyond the ken of humans in the Marvel Universe and he knows how dangerous and hostile they are. The character receives a + 1CS in any situation involving such things, including research, communication, identification and combat.
-
Occultist:
The character has made extensive studies into the area of occult happenings, including: unexplained events and mysteries of the world, hauntings, and other manifestations of the spirit world. He has a +2CS when researching or dealing with occult events.
Other Talents:
-
Feral:
The feral hero has become so accustomed to the ways of the wild, that they may be less then comfortable in urban climes. They are +1CS to hunting related rolls and gains the talents - Stealth, Animal Behavior, Climbing, Survival, Tracking, and Tumbling.
-
Performer (Death Metal Singing, Breakdancing):
The character is someone who acts, sings, dances, mimes, or otherwise uses his Talents to entertain (this is related to the Artist, the key difference being that the Artist may leave the scene of creation; the Performer is identified with that creation directly). A Performer receives 10 karma points for a week's worth of performance, whether in a play, doing a nightclub routine, or working for a movie.
Fighting Skills:

-
Acrobatics:
The hero with this Talent is very limber and as such gains advantages when under attack. The hero has a +1CS when dodging, evading, and escaping.
-
Martial Arts B:
This form of martial arts is keyed on offense and inflicting damage in short, quick bursts, and includes such disciplines as boxing. The practitioner of this form of martial arts gains a +1CS to Fighting ability when engaged in unarmed combat (When striking).
---
POWERS
---
-
Alien Mind:
Lavinia's mind is a gestalt of two inseparable consiousnesses, one completely, entirely alien. This makes it difficult for psychic phenomenon to damage her, and may in fact cause unpleasant feedback or even nightmares in the person that tries. This "sideways" mind of hers protects just her from attacks aimed at the mind, neural system, and Psyche, including Psionics, and Neural Manipulation. It does not protect against emotion-based attacks or magical attacks. This is the only ability that works for both of her forms.
Accounted for in her high Psyche. Every time an attack of this sort succeeds with a Yellow check, Lavinia gains a permanent -1CS in Psyche defense against the character making the attack, to represent them 'figuring out' the complexities of her dual mind. This won't lower her defense below Remarkable, however.
-
Guise of Nyarlathotep [Remarkable]
: Parasyte is able to 'tone back' her blasphemous form. Doing so makes it horrible to behold, but not so horrific that the mortal mind refuses to believe it exists.
OR she can not! When this power is activated, the mere sight of Lavinia shakes the minds of any character with Psyche below the power's "rank". This includes allies. Any Magical skill raises effective Psyche by one, and a knowledge skill explicitly of 'the elder ones' raises it by two, but only for the purposes of deciding if the character is susceptible.
All targets that so much as glance at Parasyte roll Psyche once per round on their own turn. On a Yellow, they manage to ignore it. on a Green, they take 10 Mental Damage. On a White, they take 20. On a Red, they are never affected by Parasyte's visage again.
Reaching 0 Mental Health has one of the following effects, at the GM's discretion;
Insane: The character loses it, gaining +1CS to all FASE stats but reducing RIP to the level of an animal. They will wildly attack a random target until dealt with, gibbering wildly the entire time. This is the most likely response if the power is used on an animal.
Comatose: The character is essentially unconscious. They just stare at Lavinia in horror, unable to move or think.
Shaken: Particular hardy characters may simply be shaken. This prevents them from using Powers and effectively erases all Skills, forcing them to fight at base rolls only. A target who is only shaken recovers [Psyche] MP per round until they reach full, reversing the effect and granting immunity for 24 hours.
-
This Blasphemous Form:
Lala is, for all intents and purposes, a normal human being before she transforms. This transformation looks different each time; each time it is hideous and maddening to behold, a prime example of fleshy, crawling chaos. There are several benefits that remain the same across each transformation, however:
o
Claws OR razored tentacles:
Natural weapons, used with Martial Arts skills.
*Tentacles: +1CS Damage, +1CS Fighting due to the bizarre way in which the tentacles move. Can be dodged with either Agility or Fighting. On a Yellow strike, the tentacles ignore any armor that isn't more or less watertight, having slopped through the smallest chink in it somehow.
A Yellow Reasoning check by an enemy will allow them to 'figure out' the movements of the tentacles, turning the +1CS into a -1CS.
*Claws: +2CS damage, -1CS Fighting due to how close you must get to use them. On a Yellow strike, inflicts a terrible wound on unarmored targets, causing them to lose 10 HP per round until they pass a Yellow Endurance check or receive even a point of healing.
o
Acid Vomit:
This vomit does a simple Remarkable (30) ranged, Acid damage, damaging non-natural armor by 1CS on a Yellow hit; With a full round effort, it can dig a Lavinia sized hole through any material of Incredible hardness or lower, at the following rates;
Incredible - 6 inches per round (or per 6 seconds)
Remarkable: 1 foot per round.
Excellent: 3 feet per round.
Good or Lower: Lavinia can barf her way through material of this grade at walking speed.
o
Breathless:
Lala does not need to breathe, and speaks with a psionically-generated, alien voice. She is still assumed to be breathing by habit unless she states she's holding her breath.
o
Unholy Flesh:
Lavinia's disgusting body rapidly regenerates flesh and lost limbs at Incredible (4 HP per round). Wounds inflicted by golden weapons heal half as quickly.
o
Elder Sight:
Lavinia is able to see in situations up to complete and utter darkness to a range of 60 feet.
o
Oddbody:
Lala's flesh becomes rubbery and difficult to pierce, bludgeon, sear or slice. Offers no protection from golden weapons.
Good protection VS Piercing/Slashing damage. (10)
Remarkable protection VS Blunt/Energy damage. (15)
30 Bonus HP.
o
Hallucinogenic Cloud:
Lala is able to belch forth a cloud of psychedelic gas. Lavinia must hit first with Agility, then with a Remarkable VS the target's Endurance. The first hit doesn't affect the potency unless it is a Red, which shifts the color of the second check up by one. The gas effect lasts for 3 rounds, and further exposure will only increase the effect; It won't change the current duration for better or worse.
Super Red: If both rolls are Red, the target remains stunned for a full day. It's a bad trip, man. It's a bad trip.
Red: Target is stunned and can't act or defend. They're tripping balls.
Yellow: -3CS to Fighting and Intuition
Green: -2CS to Fighting and Intuition.
White: -1CS to Fighting and Intuition.
---
---
WEAKNESSES
---
-
The Golden Path:
Something warred with the Elder Things long ago; something that left an indelible mark on their collective physiologies. Once immune to all terrestrial metals, Elder Things and their unholy offspring are now harmed hideously by gold in all its forms. Lavinia cannot stand the mere touch of it; even staring at gold for too long makes her dizzy and weak.
+1CS damage taken from weapons with gold worked in, or double damage from weapons of pure gold. If forced into contact with it, Lavinia cannot take her alternate form for risk of it burning right through her body, and acts at -1CS.
-
The R'lyeh Oculus:
A bizarre and maddening
relic
left to Lavinia by unseen forces, the R'lyeh Oculus has become a relic upon which she depends for survival. For every day she does not commune with the oculus for at least an hour, all of her stats fall -1cs. Should they all fall to 0, she will remain comatose until left with the Oculus touching her skin. After a day further of being comatose, she will begin to regain her attributes at a rate of +1cs per day as long as she communes with the relic. Note: This relic causes headaches, hallucinations, dizziness and, with prolonged contact, madness in any viewers not shielded from the corrosive influence of Elder things or part Elder Thing themselves.
A dangerous relic with the above affects. Should anyone else gaze through its mad eye for more than a moment, their stats will fall by -1CS and they must make a Yellow Psyche check to resist the urge to look through it again once per day. On a Green, they can be sternly convinced NOT to look, but will do so the first chance they get. On a white, they will actively fight anyone who so much as tells them to leave it alone.
On a Yellow check, they recover +1CS of the loss to each stat.
Once a character's Psyche is driven to 0 by the relic, they will go completely crazy and must be locked up for their own safety.
-
Atavism:
The Elder symbiote living inside of Lala cares first and foremost for the survival of itself and the host to which it is inextricably bound. Should Lavinia fall to ¼ of her health, she must roll Psyche every round with a cumulative -1cs for each try until she heals. When she rolls a white, her symbiote takes over and attacks wildly at friend and foe alike until it is able to flee danger and find a safe place to regenerate. While the symbiote is in control, Parasyte is essentially a wild animal; she has no mind to control, she can't be reasoned with, she can't recognize her allies. This atavism lasts until Lavinia has regenerated at least ½ of her total health.
-
The Hunger:
Lala's alternate form takes an incredible toll on her body. When detransformed she must eat tremendous amounts of organic matter to replenish her own internal energy, otherwise she will appear skeletal and emaciated and all of her stats will be at -2cs until she is properly fed. If unfed, Lala cannot take her monstrous form again.
This is more or less the reason Lavinia's Resources are Typical. In a survival type situation, Lala consumes enough food for two people or falls into the above state of starvation.
---
BOOK-KEEPING
---
Health --------> 28 / 120
Armor
--------> 30/30
Mental Health -> 110/110
Karma ---------> 110
Popularity ----> Typical
Resources -----> Typical
---
HISTORY
---
- Lavinia Whateley was a victim of circumstance; her archaeologist mother, unknowingly pregnant, was the first to climb through the ruins of a temple that had inexplicably risen from the waves after a major earthquake. Her mother was also first to be exposed to ancient spores buried deep within the most inner chambers of that temple, spores that oozed forth from an embalmed body that was… not quite human. The rumbling began soon after.
- A second earthquake buried the temple back beneath the sea; it was all Lavinia's mother could do to escape with her life. Even at that early hour, Mrs. Whateley had a sense that something about her was… different. Altered. Her daughter, born around eight months later, horrified her parents; their child was afflicted with malformed protrusions all along her spine and a bizarre, chitinous growth all along the top half of her head. Her parents of course assumed she was a mutant and did their best to raise her.
- Lavinia's life was…difficult. Ostracized at school for being a mutant and avoided by the vast majority of her family, Lala grew up in loneliness in spite of her parents' best efforts. She was never truly –alone-, however; in moments of stillness, of silence, she could hear a voice whispering to her, soothing her, attempting to befriend her, even as the backs of her eyes filled with nightmarish hellscapes beyond the ken of mortal man. It sounded just as lonely as she. Her parents merely assumed it was an imaginary friend. Lala knew better. It was part of her, she knew. A part of her that would never go away. And it was getting smarter every day.
- "The incident" happened when she was just thirteen. She was brutally beaten on her way home from school by a group of full-grown adults who didn't want her in their neighborhood. They had intended to stop, but mob mentality had whipped them up to a frothing rage. Just as Lala was near death, her body twisted, shifted. Changed. The very sight of her drove those men to madness and she tore down the street, breaking cars, smashing hydrants, scaring the neighbors. By the time she reached her parents she'd returned to her former state but her wounds had been healed; it was only with a great amount of convincing that she could get them to believe it wasn't some wild tale.
- The cops showed up at her door soon after. Her symbiote, now able to control its host, forced her body to shift into another monstrous form and lope away into the night. She lived in the forest trapped in that body for several years, reduced to the mind of an animal, and giving rise to several local myths about the treeline devil.
- Eventually the symbiote, who named itself Ph-amm, was forced to relinquish control of Lavinia's body. She woke up terrified and confused in the outskirts of a small city and taken in by two mutants who understood, at least partially, what her life had been like. They tried to send her to Xavier's Academy and though she was found to lack an x-gene, they accepted her.
- Lala has recently graduated after several long years of catching up education-wise to her peers; she's currently trying to make a life for herself in New York, which has proven difficult thanks to her odd appearance. Though she majored in security systems, she currently makes her living singing with her death metal band "The Great Old Ones".
---
EQUIPMENT
---
- Lavinia wears a special undersuit granted to her by Xavier's School for the Gifted; whenever she transforms, the undersuit melds with her body until she transforms back to her human self. This has the very desired side-effect of preserving her dignity after a fight.
-Iphone, ipad, kindle, computer, laptop, the usual.
- A small apartment.
- Purple car, average model.
---
---
NOTES:
Approved by: (GM puts in Nick and Date)
---
| | | |
| --- | --- | --- |
| Rank | Bot Code | Value |
| Shift-0 | Sh-0 | 0 |
| Feeble | Fb | 02 |
| Poor | Pr | 04 |
| Typical | Ty | 06 |
| Good | Gd | 10 |
| Excellent | Ex | 20 |
| Remarkable | Rm | 30 |
| Incredible | In | 40 |
| Amazing | Am | 50 |
| Monstrous | Mn | 75 |
| Unearthly | Un | 100 |
| Shift-X | X | 150 |
| Shift-Y | Y | 200 |
| Shift-Z | X | 500 |